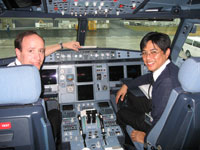 Welcome to Hawaii Aviation
Hawaii Aviation is the employer of First Officers and Captains for Air Japan and Nippon Cargo Airlines.
Our crewmembers operate the B747 and B767 for our various customers from crew bases in Japan, United States and Europe.
To learn more about us, click here.

Current Positions
We are currently accepting resumes for various positions. Please check our Positions page for more information on the positions available and the minimum requirements for each position.